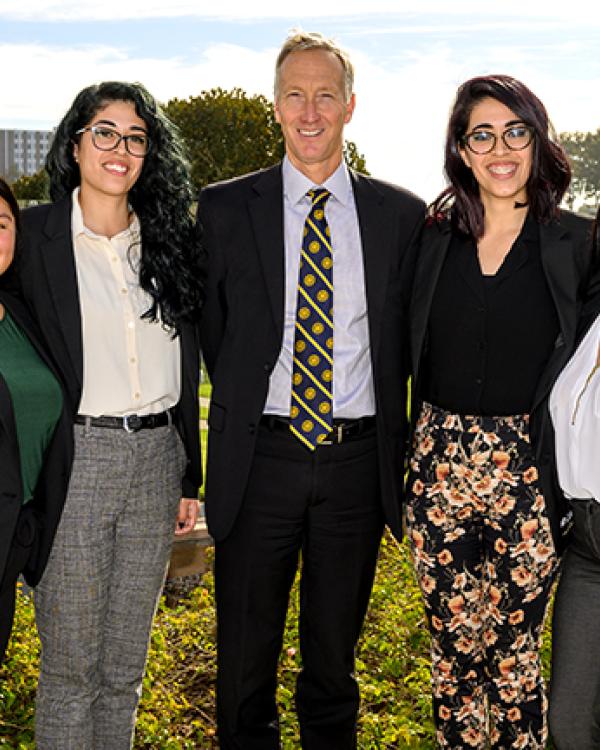 Evely Jimenez, Alejandrina Lorenzano, Maria Lorenzano, and Monica Rojas of UC Santa Barbara's Gevirtz School have been chosen as the 2019-20 PEAC Community Fellowship for Education recipients.
This is a new partnership among the Gevirtz School's Teacher Education Program, Santa Barbara Unified School District (SBUSD), the James S. Bower Foundation, and SBUSD's Program for Effective Access to College (PEAC—which supports traditionally underserved students with the academic and socio-emotional supports necessary to reach college). The funding provides full-ride fellowships to PEAC graduates (or closely affiliated students) who have completed their undergraduate degrees, wish to earn their teaching credentials in the Gevirtz School, and ultimately return to their home community as a teacher in SBUSD. SBUSD complements these full-ride fellowships with provisional job offers for the fellows—upon entering TEP—to be finalized after the successful completion of their teaching credentials. With generous support from the Helen and Will Webster Foundation, the Gevirtz School was able to expand this program and offer a fourth fellowship this year.
Evely Jimenez is a Multiple Subject Teacher Education Program and M.Ed candidate. Jimenez was born and raised in Santa Barbara, CA. She is a first generation college student and completed her B.A. at UC Davis in Spanish and a minor in Education. Her experience as a Mentor for Wilderness Youth Project, mentor for the Program for Effective Access to College Program, and student support staff at Santa Barbara City College has helped her immerse herself in various educational settings, and has developed a diverse background in supporting children both in the outdoors and classroom. Her interests in language and community ignited a passion to support students in their education.
Alejandrina Lorenzano is a Single Subject Teaching Credential English candidate earning her Master of Education through TEP. She received her B.A. in English from UCLA in 2016. For two years, Alejandrina worked alongside the PEAC Program in the Santa Barbara School District, serving as a mentor and the PEAC site coordinator for Santa Barbara High School. As a first-generation Latinx student, Alejandrina is interested in working as a high school English and AVID teacher. With support of the PEAC fellowship, Alejandrina hopes to close the achievement gap for low-income, first-generation students as they pursue higher education.
Maria Lorenzano is working on her Master of Education and Single Subject Teaching Credential in English. A native Santa Barbarian, Maria attended San Marcos High School before pursuing a B.A. in English at UCLA in 2016. After returning to Santa Barbara she worked primarily with K-6 grade students at Adelante Charter School as an A-OK (After School Opportunities for Kids) Leader for two years. During this time she has also worked at Girls Inc. and Summer Fun. However, she is currently a PEAC (Program for Effective Access to College) mentor for the sophomore A.V.I.D (Advancement Via Individual Determination) classes at Dos Pueblos High School. She hopes to give back to the community that encouraged her love of teaching.
Monica Rojas is working on an extensive support needs special education credential and a M.Ed.  A first-generation college graduate, former DACA recipient, and single mother, Monica is a San Marcos High School graduate and earned a BA in Psychology at Cal State Channel Islands. Before attending TEP, she worked as a paraeducator in the Goleta Unified School District Office. Monica eventually wants to get a Ph.D. so she can teach students to be great teachers.