This news feed chronicles the Gevirtz School's impactful partnerships with fellow scholars, practitioners, and colleagues in the Santa Barbara community and region as we work to serve as a leader in education locally, in the State of California, and beyond.
Title of the Video
Quisque vel tortor urna. Morbi dapibus porta mattis. Cras consectetur consequat tortor ut condimentum. Sed rutrum nisi sed varius ornare. Proin venenatis neque eget faucibus malesuada. Fusce placerat velit sem, vitae venenatis lectus ornare ac. Integer scelerisque magna non massa vulputate fringilla. Pellentesque quis dui quam.
The Gevirtz School In the News
A record of print, radio, and video coverage of the School's faculty, students, staff, and alumni.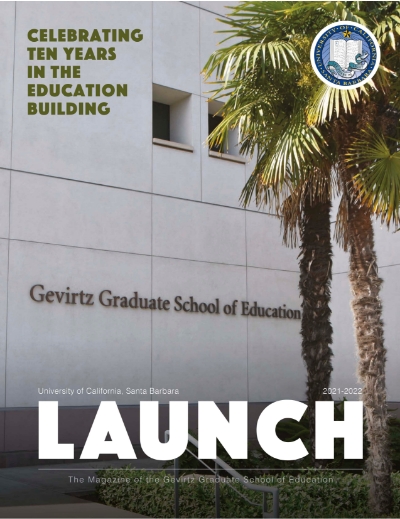 Launch & Re:Launch
Celebrating Ten Years in the Education Building
The Magazine of the Gevirtz Graduate School of Education
Launch each year features stories of faculty, students and staff, a review of honor and awards by faculty and alumni, a list of each year's fellowships, and our donor honor roll.
Re:Launch each year focuses on some of our major research initiatives.
2021–2022
From Ocean & El Colegio Archive
Each quarterly e-newsletter features a lead story, and then stories about Education Diversity, and Democracy; Research in Practice; Philanthropy in Action; Current Student and Alumni Spotlights; Alumni News; and Upcoming Events .