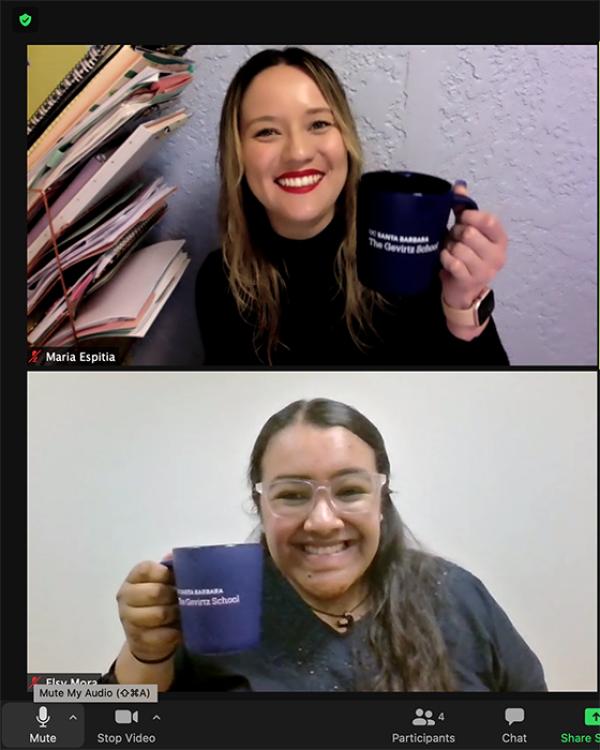 Two UC Santa Barbara Teacher Education Program students—Maria Espitia and Elsy Mora—are the current PEAC Community Fellows. They are the second cohort of an innovative program that funds teacher training at UCSB for positions in Santa Barbara-area classrooms. Upon earning their teaching credentials, both will receive an opportunity to teach at Santa Barbara Unified School District (SBUSD).
The PEAC Community Fellows Initiative is a strategic effort by UCSB's Gevirtz School in partnership with SBUnified and other stakeholder community organizations—to grow a diverse, local education workforce.
"By placing these highly trained educational professionals in their home communities, this initiative aims to create a pipeline for underserved members of our community to fulfill their passion to serve in the education workforce," says Jeffrey Milem, Jules Zimmer Dean of the Gevirtz School. "This program also increases the odds that the fellows will be enmeshed in personal and professional networks that can help guard against the early career challenges of entering the education workforce."
Elsy Mora's fellowship is funded by the James S. Bower Foundation and the Hazen Family Foundation (and she is also a Gates Millennium Fellow); Maria Espitia's fellowship is funded by the Webster Foundation.
Mora is pursuing her Single Subject Teaching Credential in Math and a M.Ed. She received her B.A. in Chicana/o Studies with minors in Education and History from UC Davis. She looks forward to bringing her experiences navigating education as a first-generation, immigrant, farm working, low-income, Latina student into her classroom so that her students may see themselves reflected in her and tap into their limitless potential. Mora hopes to add a content area in Social Sciences to her single subject credential so that she can bring a social justice perspective to American history classes or to expand her possibilities of also teaching Ethnic Studies.
Espitia is pursuing an education specialist credential in moderate to severe disabilities and an M.Ed. A first-generation Mexican American, she received her B.A. in English from UC Berkeley. She has worked in a variety of education settings in her community, most recently as a special education paraeducator which is where she discovered her passion for the profession. Espitia would like to advocate for students with disabilities in diverse communities and implement effective culturally responsive teaching practices that enable her students to succeed.
Meanwhile the first PEAC Community Fellows cohort, after earning their teaching credentials in June 2020, have been successfully teaching in Santa Barbara Unified School District schools starting with this current academic year. Alejandrina Lorenzano teaches English at Dos Pueblos High School, Maria Lorenzano teaches English at San Marcos High School, Evely Jimenez teaches kindergarten at Cleveland School, and Monica Rojas teaches special education at Peabody School.
"We are proud and honored to have our students back at SBUnified as teachers and leaders," says Hilda Maldonado, SBUnified Superintendent.  "The PEAC Fellows program is an opportunity to grow our own teachers and help diversify our school district workforce, and more importantly, provide local mentors and role models for our students."
The SBUnified Program for Effective Access to College (PEAC) is a 7 to 12th grade system of support for low-income, first generation college-bound students to prepare them for college entry by providing access to academic and socio-emotional support. In an effort to extend such support beyond students' matriculation to a 4-year institution, the PEAC Community Fellowships for Education create a seamless pathway for college graduates who aspire to teach. Patricia Madrigal, who oversees the district's PEAC efforts, explains that "once the Fellows earn their teaching credential and are placed in an SBUnified school, they are in essence coming home." The PEAC Fellowship is in honor and memory of beloved educator Jo Ann Caines.
The Santa Barbara Unified School District serves over 13,500 students from Preschool - 12th grade and launched the PEAC college readiness and access program in 2011. The mission of SBUnified is to prepare students for a world that is yet to be created, visit www.sbunified.org
The Gevirtz Graduate School of Education at UC Santa Barbara is comprised of the Department of Counseling, Clinical and School Psychology, the Department of Education, and the Teacher Education Program. It is a hub of educational innovation with world-class research produced by distinguished faculty and exceptional graduate students. The Teacher Education Program was named a "California's Asset" in the 2012 governor's State Educator Excellence Task Force Report.