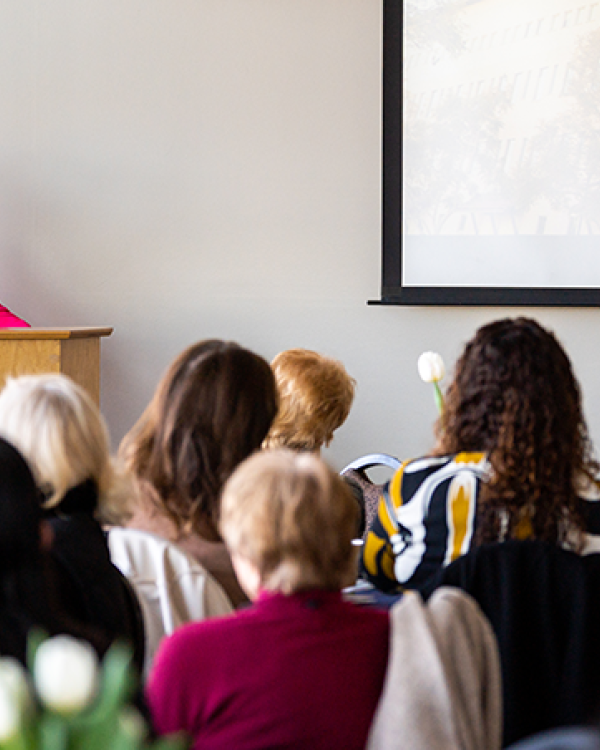 After two years of online celebrations, the Gevirtz School welcomed students, faculty, staff, and supporters to the first in-person Gevirtz School Fellowship Breakfast since January of 2020. The room was abuzz with congratulations as fellowship recipients were honored and community leaders in education connected over this year's theme and pressing question, "Education: What Does Change Look Like?"
Guests gathered to celebrate 62 of the School's most promising graduate students who received fellowships awarded in the Department of Counseling, Clinical, & School Psychology (CCSP), the Department of Education, and the Teacher Education Program (TEP) during the 2022-2023 academic year. Fellowships are made possible thanks to generous individual donors and foundations who have contributed to 27 philanthropic funds that provide annual student support in the School.
Kicking off the event, the Gevirtz School's Jules Zimmer Dean Jeffrey Milem reflected on a main ingredient in driving positive change in schools. "The most powerful lever of change in education," he explained, "is getting and keeping the right people in the field to do the work." With continued support from the philanthropic and education communities, as well as enthusiastic buy-in from school leadership, the Gevirtz School has crafted a recipe for success – ensuring that the potential of the most promising future teachers, school psychologists, and education and mental health experts does not go untapped due to financial need.
The Gevirtz School, he shared, "is responsive to the needs of an exceptionally diverse population – in an equitable way." The School provides fellowships that support and recruit students who are dedicated to enacting lasting change in education, and beyond. Fellowships offer critical support to graduate students, and go a long way to ensure that financial obstacles are not what holds them back from achieving their full potential.
Following the Dean's remarks, Dr. Susan Salcido, Santa Barbara County's Superintendent of Schools and UCSB alumna (M.Ed., '96), gave this year's rousing keynote address. "In education," she shared with those gathered in Mosher Alumni House, "we are in a stage of healing and recovery, response and change, optimism and aspiration." In addition to reflecting on how education in Santa Barbara county (and pop music!) has changed over the last 30 years, she offered some valuable advice to attendees – and to all who care about education in our community: listen to local students as they raise awareness for their needs around mental health, culturally-affirming teachers, and developing practical life skills.
Guests also enjoyed impressive and personal stories from three graduate students – Sabiha Sultana, Kaylin Russell, and Marissa Santizo – who spoke about the positive impact their fellowships have had on their lives in and outside of the classroom.
This year's Carol and James Dixon Fellow, Sabiha Sultana is a Ph.D. candidate in Education working in literacy and critical reading assessment research. Sabiha draws on her childhood growing up in Bangladesh, where few children have access to reading enrichment activities, to fuel her passion for developing transformative ways to foster students' critical reading abilities. "Over my career, I want to help multilingual, multicultural, and multiethnic students to develop their critical reading abilities and to recognize their own agency throughout the learning process," she explained. Sabiha was able to focus more on her research and worry less about financial pitfalls thanks to the Dixon Fellowship.
Kaylin Russell, 2023's Charles Nasser Memorial Scholar, is a third-year doctoral student in Clinical Psychology studying autism spectrum disorder (ASD) interventions for children and adolescents. Kaylin fell in love with intervention research after working directly with families of children with autism. During her time at the Gevirtz School, Kaylin has helped to provide parent-mediated interventions for young children with autism as well as a social skills groups for autistic teens at the Koegel Autism Center.
Finally, Marissa Santizo provided a shining example of how the right community resources ensure education is accessible to the most promising students in our own community. As one of three Santa Barbara Community Fellows this year, Marissa is working towards earning her Masters in Education and her Education Specialist Credential in Extensive Support Needs. Her dream to become a special education teacher stems from experiencing first-hand the difference in access to community programs made for a close family member, who has extensive support needs. The Community Fellows Initiative unlocked an opportunity that she never imagined was possible, as a Santa Barbara local who has worked in the field of special education for eight years. "I am so grateful I am believed in," said Marissa, whose tuition and fees are entirely covered by the generosity of donors to the Community Fellows Fund. When her credential is completed, Santizo will have the opportunity to join the teacher workforce in her home town thanks to a fruitful partnership between the Gevirtz School and Santa Barbara Unified School District.
In his closing remarks Dean Milem announced the creation of two new endowed fellowship funds: the Ann Parkinson Kaganoff Family Endowment for Literacy, generously funded by Dr. Ann Kaganoff and family, and the Community Fellows Fund, which aims to create a pathway for diverse, local students to become teachers and school psychologists. The latter is supported by the Helen and Will Webster Foundation, the James S. Bower Foundation, and an anonymous Santa Barbara community foundation. Both fellowships will greatly increase the scope of support the Gevirtz School will be able offer to future graduate students.